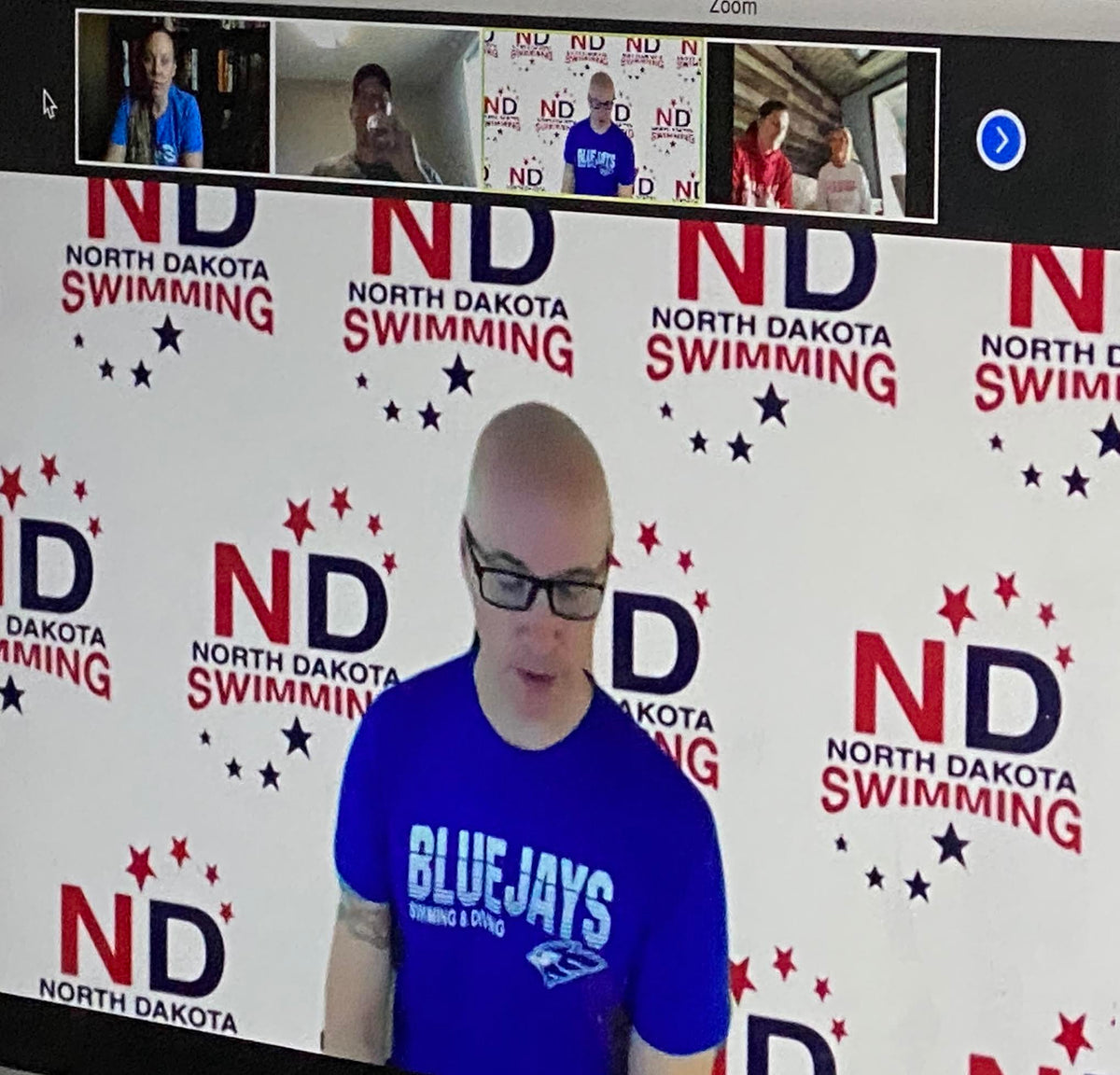 NDLSC BOARD OF DIRECTORS VOTE TO CANCEL THE 2020 NORTH DAKOTA LONG COURSE STATE CHAMPIONSHIPS.
By Al McDonagh, Founder Lane 4 Athletic
"We are living in unprecedented times" said Shane Peterson the General Chair of the NDLSC.  "The impact on swimming is very evident with the outbreak of Covid-19." This is how the North Dakota LSC Board of Directors meeting and separately, the North Dakota House of Delegates meeting opened on April 26, 2020. 
One of the main items that was discussed and voted upon during the Board of Directors meeting was whether North Dakota should hold its 2020 Long Course State Championships which were to take place July 24-26, in West Fargo, North Dakota.
In a unanimous vote, the North Dakota LSC Board of Directors voted to cancel the 2020 Long Course Championship meet.  In making this decision, several factors were cited in coming to the conclusion that it would be best for North Dakota swimmers and teams to cancel the championship meet. 
One factor was the Red River Valley Wahoos, located in Grand Forks, ND, announced they will not have pool time until at least early August.  The Wahoos practice and host their meets at the Hyslop Natatorium located on the campus of the University of North Dakota.  Officials from UND informed the Wahoo Board of Directors the Hyslop would be closed through July.
Other factors the NDLSC Board of Directors considered is the unknown of when all the other teams would be able to get into their respective home pools, and what practices would look like once teams were allowed back to their facilities. Lisa Montplaisir, NDLSC Technical Chair, indicated "each club is going to have a different set of parameters to work from depending on the spread of Covid-19 in their area. There may be situations where clubs will be on different timelines in getting back into their pools."  The final factor was, at the current time, USA Swimming has suspended sanctioning any meets.
This decision by the Board, is consistent with what has been happening throughout the United States.  Last week, Gulf Swimming, located in the southeast area of Texas, cancelled their traditional long course season.  (Gulf Swimming Cancels 2020 Long Course Season)
Peterson said, at the current time, "[we] have no idea what the long course season is going to look like." Montplaisir added, that based on her current meetings with USA Swimming officials, USA Swimming has suspended all sanctions through May 31st.  According to Montplaisir, USA Swimming around May 15th will issue additional guidance moving into the month of June. The feeling is the suspension of the sanctioning process will more than likely continue past the current May 31st timeline.  "Sanctioned meets are the last priority of USA Swimming.  The main priority is for everyone to come out of this healthy and for teams to develop their own plans so they can safely host meets in the future," Montplaisir added to the House of Delegates who attended via Zoom. Montplaisir emphasized, at this time, "the number one priority is for clubs to reach out to their facility director and to develop a plan with the facility director for your team."
The Board encouraged clubs to work on how their practices will look once pools open up and to make sure they are consistent with current CDC guidelines. 
At this time, it is unknown what the CDC guidelines/requirements for social distancing and crowd size will look like for swim meets reaching into the summer months and beyond.  As of now, USA Swimming has cancelled the 2020 Central Zone, Futures, Junior Nationals, and Sectionals meets. 
The NDLSC Board of Directors are looking at alternatives to hosting a championship long course meet.  The emphasis has been placed on getting swimmers back into the pool to engage with their teammates and for the North Dakota swimming community to celebrate getting back into the water as one swimming community.
Peterson emphasized to the House of Delegates that teams need to start thinking about what they can do to get back into the pool. "It is misguided to think that once pools open-up we will go back to normal." "Right now, we don't know what meets are going to look like or when we are going to start holding sanctioned meets. For the foreseeable future, it looks like we will be running smaller meets (I-squad, duals) to follow CDC guidelines," Peterson told the House of Delegates. "We all need to think outside the box.  We won't go back to the old normal.  We will be looking at a new normal," said Peterson via Zoom.
As of now, there are weekly phone conferences for LSC leaders with USA Swimming. The Board assured the House of Delegates it will do it's best to get new information out to the clubs.   One item the NDLSC Board discussed is hosting Zoom town hall meetings to share information with coaches, club boards, parents and swimmers.  "The spread of information is vital during this time," Peterson stated. "We will continue to disseminate information and make the best decisions we can as a governing board."
You can find more information on the Covid-19 impact on the sport of swimming via the NDLSC website.(North Dakota Swimming).